WELCOME TO
Bike Walk GoldenMission Statement:
To advocate for all people in Golden having access to key community destinations on streets and pathways that are safe for those from ages 8 to 80.
Goal:
To be a community that is walkable, bikeable, and accessible to all.
---
How can you help?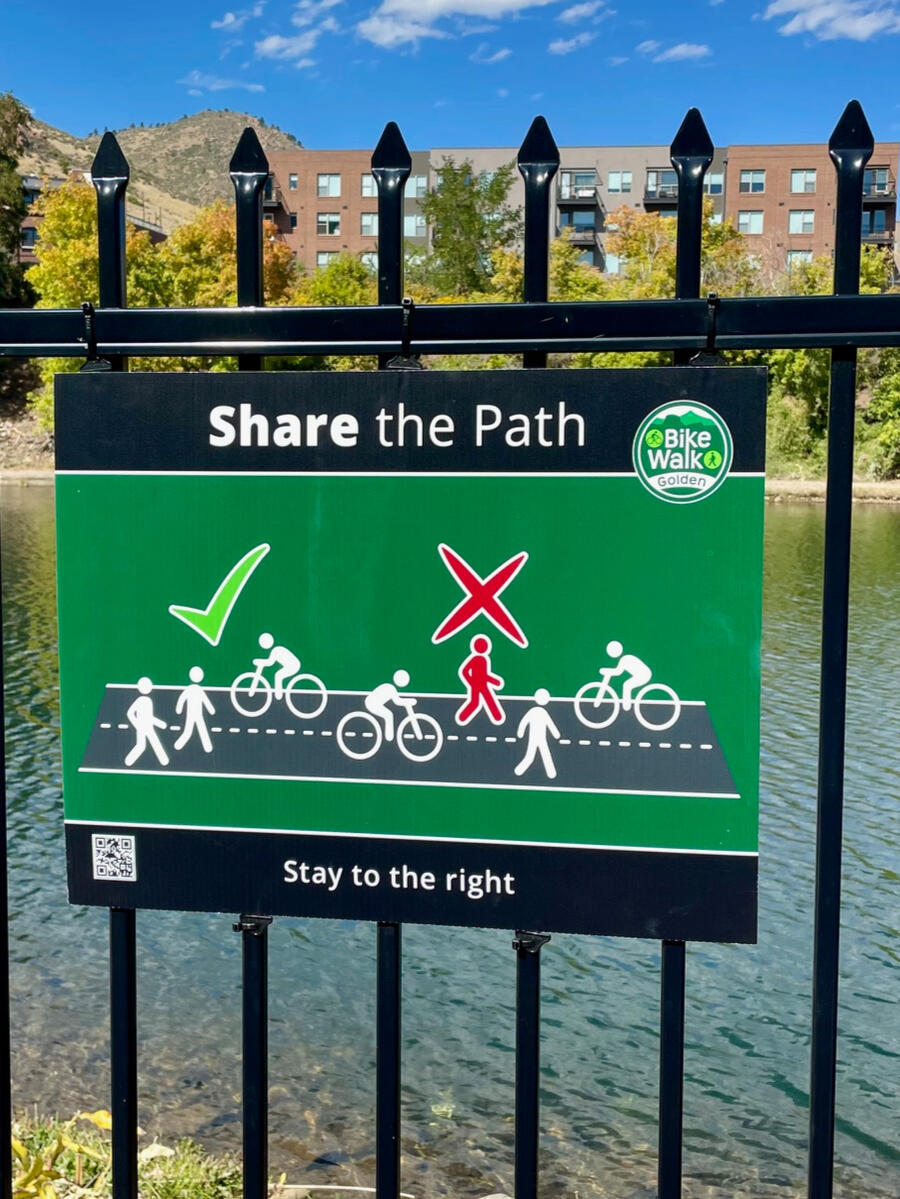 ---
We are super grateful to our volunteers
that helped make all of our successes possible!Summer 2023 was an exciting time for us:
* assisting with Bike to School events
* operating bike corrals to for events in Golden to make it
easier for attendees to ride instead of drive
* participating with the City staff by providing YOUR input
to the City of Golden Bike & Pedestrian Master Plan.As a result of the approval of the Bike & Pedestrian Master Plan, the City of Golden has more:
marked crossing for pedestrians,
more bike racks to secure your bike,
and new STOP signs at busy intersections downtown.Throughout the year we need volunteers to keep things running.
Your involvement is appreciated whenever you are available
- you don't have to attend every meeting,
but if you are interested, please contact us for details.Year round volunteer options include:
* attend a Golden Mobility and Transportation Board (MTAB)
meetings on the 4th Thursday of the month, 6pm in City Council Chambers.
* attend a Bike Jeffco zoom meeting.Bike Walk Golden is a 501 (c) 3 organization
---
What We're Reading
---
Community Resources
---
Objectives: work with City of Golden staff advocating to:
- Offer safe biking options:
* with lanes separated from cars, or*
* with cars if the travel speed is 18 mph or less*- Offer safe crossing for bikes and pedestrians that meet the needs
of an 8 year old, or an 80 year old- Create a new east/west bike/ped connection that is an
alternative to the clear creek corridor- Create welcoming streets for walking and biking- Create a safe and happy city that prioritizes people's well-being
and enhances the small town feel that makes Golden
so special to residents and visitors
---
Additional Resources